About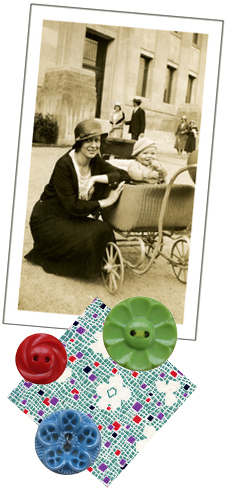 Primrose Design began about 10 years ago when I started making pillows from vintage textiles that I'd collected over the years. I had a stressful job that involved hours spent at a computer and I needed some balance in my life. What better way than to return to the sewing and needlework I'd always loved. As a child I spent summers with my grandmother (that's her in the photo) and she taught me to sew, embroider, and do needlepoint. I come from a long line of women who were expert at the needlework arts and I'm proud to carry on the tradition.
I've left that job and I'm freelancing as a graphic designer from my home studio. The rest of the time I sew, craft, and create new products. Primrose has expanded to include a wide variety of smaller, lower-price-point sewn items including lavender sachets, accessories, kitchen textiles, and home decor.
In addition to handcrafted items you'll find a selection of vintage items, too. Specifically vintage aprons and needlework-related products including my own line of embroidery patterns based on my extensive collection of vintage stamped-for-embroidery linens. You'll find even more vintage items in my two Etsy shops—Primrose and Primrose Buttons.
I spend most weekends at flea markets, antique malls, and estate sales searching for materials to use in my creations. And for vintage bargains to pass along to you!
I live in northeast Pennsylvania in a very old house that we're slowly fixing up. I love reading, cooking, cats, gardening, photography, and genealogy. And everything to do with vintage textiles, obviously!
Visit my blog to read about my treasure hunting adventures and what I'm working on now. Like Primrose Design on Facebook and visit my Pinterest boards for more vintage goodness!